4 minutes reading time
(874 words)
Flight of the Falcon: Associate Profile on Service Technician Tristen Ludewick

Reading books in elementary school is a big part of the education process, and for Service Technician Tristen Ludewick, the message in one particular book had a lasting effect.
Tristen grew up near El Dorado, KS. After high school, he decided to follow in the footsteps of several family members and join the Navy.
During his 4-year enlistment, Tristan worked as an engineer, learning to work on large mechanical systems.
When he returned to civilian life, he had the experience he needed to become a residential HVAC technician. After several years in residential service, he made the transition to the commercial side and joined UA Local 441 Plumbers & Pipefitters.
He came to P1 Service Wichita in 2020, where he is a VariableRefrigerant Flow (VRF) technician.
"I work on the stuff that no one else likes to work on," Tristen joked.
"But truthfully, I like every aspect of my job. I enjoy the actual work I do and I enjoy working for P1."
Tristen says he loves the family atmosphere at P1 and appreciates that management does a great job of making sure the techs feel appreciated for the work they do each day.
Being able to work directly with the customer is also one of his favorite parts of the job, and it was an interaction with a customer back in his residential days that got Tristen started in a hobby that had been nearly a lifelong dream: Falconry.
That dream began with a novel Tristen read in elementary school, My Side of the Mountain, by Jean Craighead George. The book is about a boy surviving alone in the Catskill Mountains with the help of a Peregrine Falcon he raises and trains to hunt.
"I remember thinking at the time that was one of the coolest things you could ever do," Tristen said.
That feeling stuck with him into adulthood, so when he got out of the Navy, he decided it was time to get involved.
He ordered the books he needed, but getting into Falconry is a complex process.

Potential falconers must serve an apprenticeship under a licensed falconer, a process that takes up to two years. Once the apprenticeship is complete, they must pass a written test, and obtain a permit from the state and a federal license to fly the birds.
For Tristen, finding a sponsor was a seven-year search that ended on that fortuitous day when he was on a service call.
"I was on a service call at a gentleman's house and saw pictures of guys with birds on their fists and feathers and falconry hoods, and I asked him if he was a falconer. He said he was, so we started to talk -and hit it off right away," Tristen said.
The sponsor took him on as a pre-apprentice for two years before he would take him as an apprentice, because he wanted to make sure Tristen had the commitment to follow through.
"When my official apprenticeship started we began trapping birds," Tristen said.
As an apprentice in the state of Kansas, you have to trap a wild bird and there are restrictions on which bird you can start with.
Tristen said that people generally start with a red-tailed hawk. "We set up a trap called a Bal-chatri: A cage like trap used to trap raptors – you put a gerbil inside for bait," he said.
The gerbil is in the cage in such a way that it isn't harmed by the bird being trapped.
Tristen says he traps the birds in the fall and it takes two to four weeks to train them. Once trained, he hunts with them during the winter and releases them back to the wild in the spring.
He currently has one small American kestrel.
"When they hunt, they chase and kill the quarry and we let them feed on that for a while as a reward. Then we do a trade off with another piece of meat, a richer piece of meat that they are more apt to want," he explained.
"We set it in front of them while they are on the prey, they jump to the fist and start eating on that, and then without them seeing, we take the dead quarry and put it in the bag."
Red Tail Hawks will catch rabbits, cotton rats and squirrels. The American kestrel catches starlings and sparrows.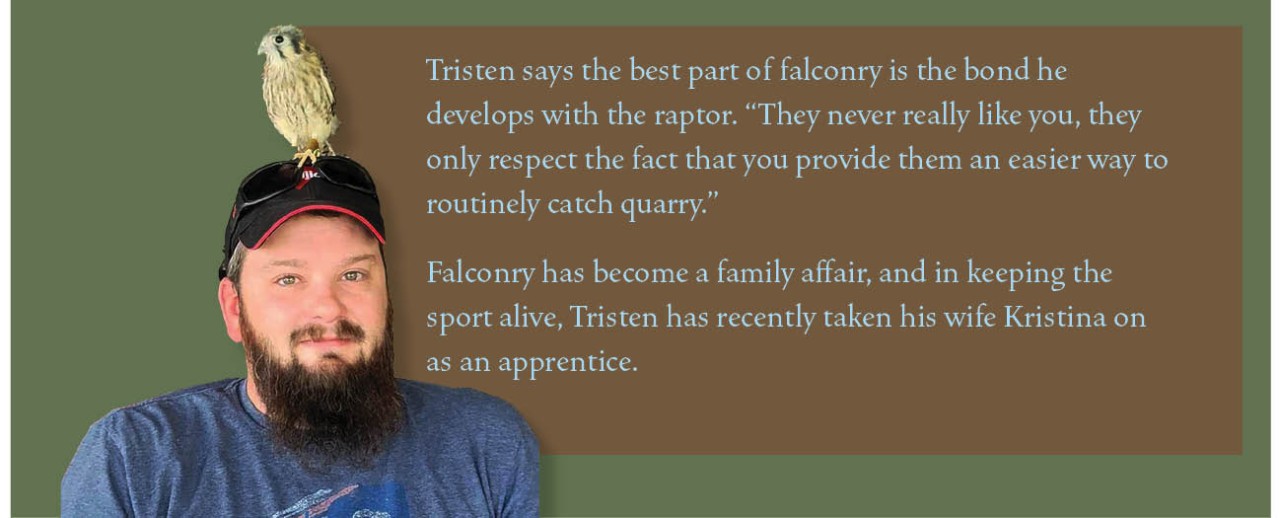 Tristen says the best part of falconry is the bond he develops with the raptor. "They never really like you, they only respect the fact that you provide them an easier way to routinely catch quarry," Tristen said.
"I stay involved because it is the world's oldest sport, the sport of kings," Tristen said.
"Falconry is listed by the United Nations Educational, Scientific and Cultural Organization (UNESCO) as a living human heritage and now that I am involved, I feel I have a duty to help keep that heritage alive."
Falconry has become a family affair and in keeping the sport alive, Tristen has recently taken his wife Kristina on as an apprentice.
Yet another fascinating thing you probably didn't know about one of our own P1 associates: We wish Tristen and his family the best of luck in the "sport of kings"!