4 minutes reading time
(705 words)
P1 Service Electrical Foreman Clint Hines Turns Passion for Fishing into Singular Hobby

Keepin' it Reel: Electrical Foreman Clint Hines Turns Passion for Fishing into Singular Hobby
To say fishing runs in the family of P1 Group Electrical General Foreman Clint Hines is an understatement.
The Olathe, KS, native grew up traveling every summer to Ontario, Canada, to fish on Corn Lake. The lake is a popular fishing spot for novices and pros alike, known for its variety of fish.
"I've been fishing all my life," Clint said. "My whole family enjoys fishing."
To this day, the family frequently returns to Ontario for a summer vacation.
"My grandpa started going when he was 16, and my grandparents returned to the same fishing spot for 50 consecutive years," Clint explained.
With an avid love for fishing built into his DNA, it's no surprise that a particular ad on Saturday morning TV caught Clint's attention one day.
"I was watching a fishing show on TV and saw a commercial for someone who builds custom fishing rods," Clint said.
The commercial mentioned available classes and Clint was - you might say - hooked.
He flew out to San Diego for a three-day hands-on class. And that's how he built the first, of what would be many, custom fishing rods.
He was so enamored with the process, it became a hobby. "It's a really neat process," he explained. "From your basic rod you can use your imagination to start changing things and make it something unique."
Clint says the appeal is being able to build something you can't buy at the store.
While he's definitely turned it into a hobby, Clint also has a small customer base now.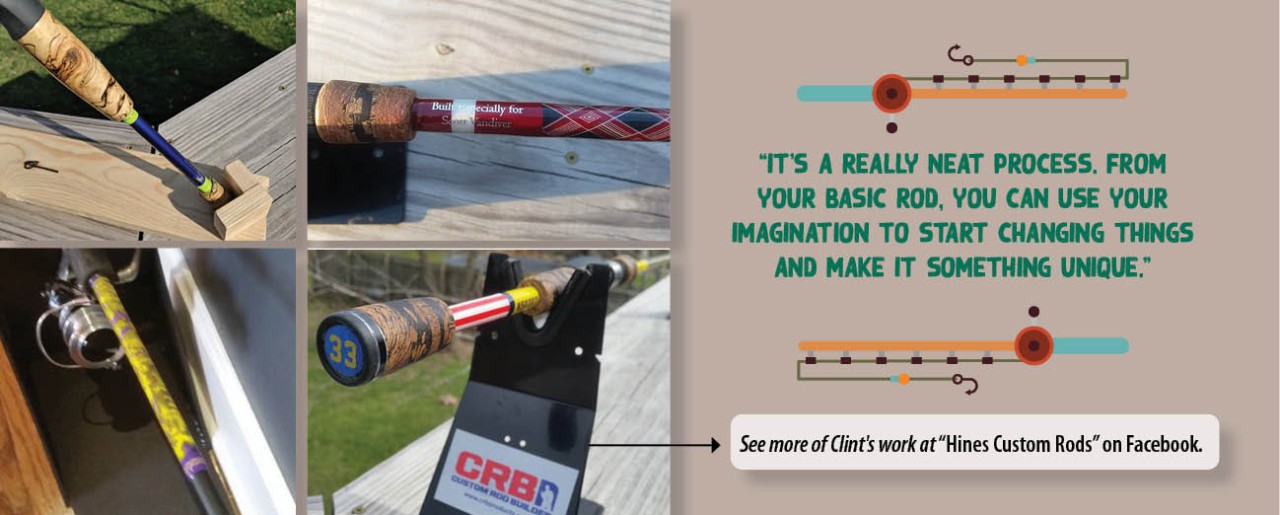 You can see Clint's work on his Facebook page, Hines Custom Rods. There are other custom builders who have seen Clint's work, and occasionally push business his way as well.
One such person, someone Clint says is considered a founder/icon in the business, is slowing down his rod-building business, and has passed along some of it to Clint.
"I don't sell for a profit, I just like doing it and will take orders," Clint said.
In addition to fishing, Clint also comes from a family dedicated to the trades.
"Across my big family, there are a lot that work in different trades," he said. "I have several uncles that are plumbers."
In fact, one of those uncles, Jeff Hines, was a plumber pipefitter who retired from P1 (having also worked with the company when it was AD Jacobson).
But there wasn't a single electrician in the family, so that became an area of interest for Clint.
After working with his dad in the decorative concrete business, he decided to pursue something new.
"Both my parents encouraged me to find a more reliable career in the trades," Clint said.
He chose electrician, and came up through the electrical apprenticeship with IBEW Local Union 124.
Along the way, the need arose for techs who could do infrared scanning and testing for breakers and transformers.
"I gave it a try because it was something different," Clint recalls.
After more training and experience, Clint found his niche specialty in the areas of arc flash assessment, breaker testing and maintenance, transformers, medium voltage cable terminations, and testing.
Clint says what he likes best about his career is his work entails things you don't see every day.
"Helping new people in new facilities solve problems and stay compliant keeps it interesting," he said. "It's also specialty work, and because I'm working in energized environments, I have to stay sharp to do it."
We hope Clint enjoys a long career in electrical – and fishing!

Pictured, from left: Clint with daughters Azlynn and Graie; Clint with wife, Sarah; Hunting with dad, John Hines
PASSING THE TRADITION DOWN
"I've got a lot of hobbies," Clint said. "Hunting, fishing, shooting sports, rod building, wood turning – specifically game calls."
But Clint says his two daughters, Azlynn, 9, and Graie, 7, are his No. 1 hobby.
Clint and his wife Sarah have their hands full with dance recitals, trips to the lake, and everything that comes with a family.
But he's passing the fishing tradition along, and it looks like Azlynn and Graie are already comfortable on the water hooking a fish or two.