5 minutes reading time
(1044 words)
The P1 Service Commitment to Emergency Response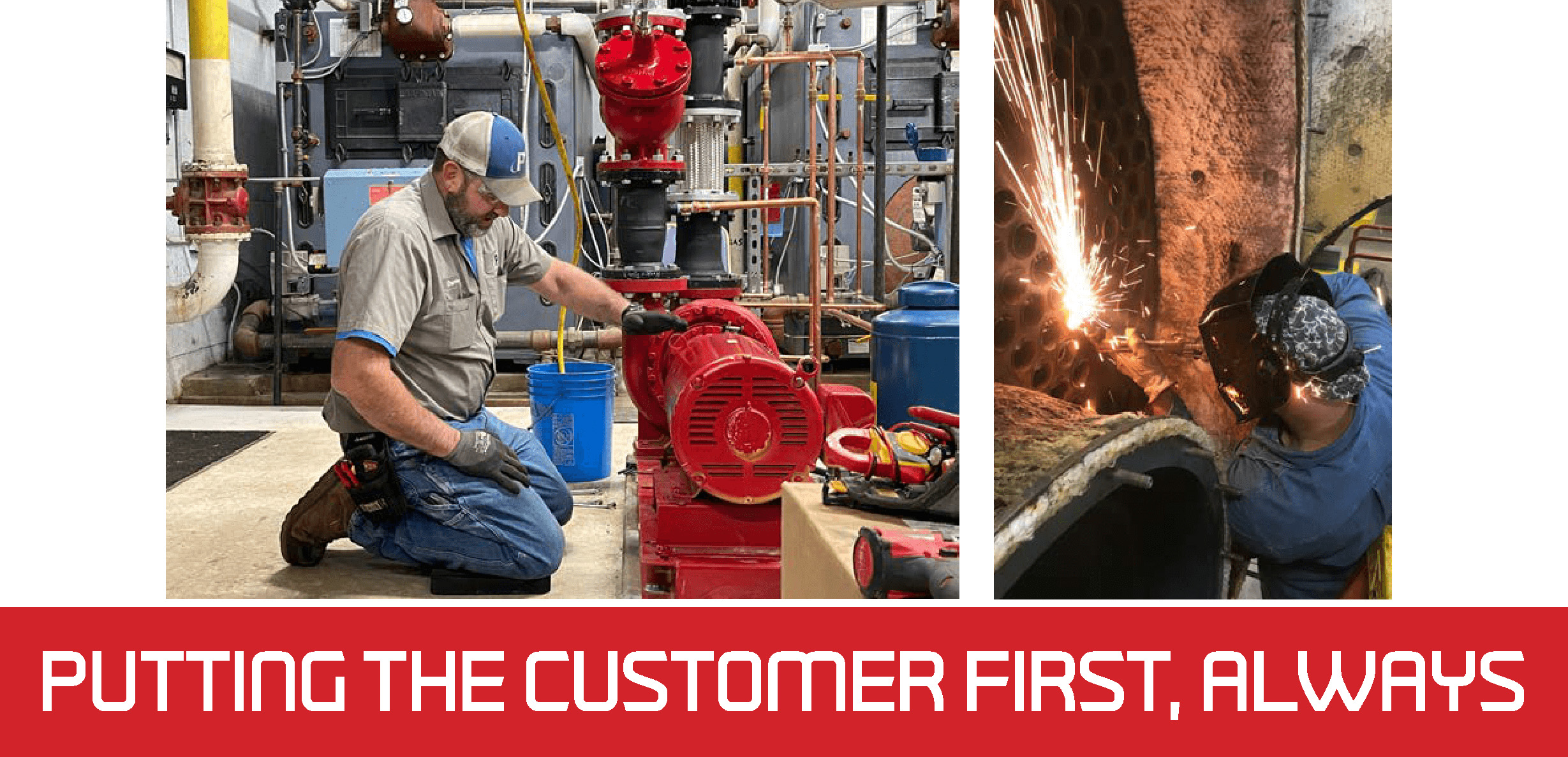 The weather doesn't cooperate, systems break down, and emergencies arise - and they don't always do it conveniently between the hours of 8a.m. and 5 p.m.
Therefore, the technicians and experts at P1 Service must handle multiple emergencies and take care customer needs 24/7/365.
Crews have to respond to calls at all hours all days of the week.
It takes teamwork, hard work, and above all, dedication to providing excellent service to P1 customers – no matter what.
We asked some of our experts how they handle the unexpected.
Working Together
Despite being two different divisions, the ETM technicians and service electricians often band together to handle multiple emergency services after hours and over the weekend.
According to Electrical Service Division Manager Chris Carr, ETM technicians step may step in to take care of customers who are generally serviced by electrical service technicians.
"We have two goals," Chris explained. "The first is 'solving for yes', and the second is providing 'service with velocity' to our customers. This means acting quickly toward a solution. Having this mindset helps the team get our customers taken care of even when an easy solution is not present."
Both extreme heat and extreme cold most certainly impact the volume of service calls.
"While weather can impact decisions for calls coming in, we take our jobs on a case-by-case basis and consider many different variables in determining a job's priority level," Chris said. "We may have a call come in that requires immediate attention and five minutes later have to change course to accommodate a different customer if their situation is more urgent. It takes a full-on team effort!"
Service Coordinators
The P1 Service Coordinators are a critical early part of the process, working as a team to determine how to get the right tech to the right emergency job in a quick-response situation.
Call Center Supervisor Jill Hollingsworth lines out the process for emergency weekend calls and after- hours work.
This includes knowing what skill sets are needed and which techs have those skills. Service and project managers assist with this at times, especially if coordinators are unsure if a certain tech has the capability to perform the job.
Then it is determined what other jobs are affected if a tech is moved.
Jill says weekend work is always challenging because most techs have been working in the extreme weather conditions, need a break, or already have plans. So, there is a more limited pool of techs from which to pull.
"The coordinators are constantly sharing information," Jill said. "Once a request is received, the other coordinators are notified, and phone calls started taking place."
"We basically start calling techs to see who may be available. If someone says they can run the call, then all the coordinators are notified verbally and/or by email to let them know the call is covered," Jill added.
"When multi-trade jobs come in, the trades needed determine which coordinators get involved."
Prioritization is Key
Emergency response can also come in the form of life safety situations, so it is essential for techs to respond fast.
HVAC and Mechanical Division Manager Brian Holladay explains how extreme weather creates emergency situations and how they are prioritized.
"Extreme weather causes systems to work harder with increased strain, which in turn can lead to problems," Brian said.
"We prioritize the incoming calls into three categories: Life Safety, PM Contract Customers, and Non-Contract Customers. The life safety and PM contract customers are put at the top of the list."
"At P1 Service, we are fortunate that we have a whole service department full of competent technicians and office staff that can handle most situations quickly," he said.
Brian notes that emergency calls can come in from different sources. Some customers prefer to contact the technician responsible for their facility directly, while others may call the service manager assigned to their account. Some call the main service number. "No matter how the call comes in, they are all handled the same way," Brian said.
"Our first call would be to the technician assigned to that contract. They have intimate knowledge of the facility and can often times take care of the situation themselves. We also have several individuals that specialize in certain aspects of HVAC Service. These technicians can be called upon if the situation dictates they are needed."
"The P1 projects department can get involved in large projects that require extensive planning and resources. We are equipped to handle any emergency that comes our way." Brian said. Brian says prioritization presents the greatest challenge.
"We have an obligation to our PM contract customers, but we also have an obligation to customers with a situation that can affect the life or safety of individuals at their facility."
"The prioritization of calls constantly changes as new emergencies arise," Brian said. Our service coordinators do a fantastic job of getting the right technician on the job in a timely manner, and our technicians work tirelessly to take care of the customer."
The Customer is No. 1 in Our Book
General Manager of Service Todd Andrews believes 100% that our employees are well above average.
"P1 has an expectation of finding team members that will challenge the status quo. When we're recruiting, we have a critical eye for talent, and a high expectation for who we want to include on our team," Todd said.
"Once on board, associates are encouraged to speak their mind, bring ideas, and brainstorm improvements. This helps everyone improve."
"There is also a culture here that encourages asking for help," Todd said. "Multiple people at all levels of the company can provide a different perspective to solving a problem."
In the end, it's the customer-centric approach to service that makes P1 successful.
"Service team members from all trades and all departments have the customer in mind first and foremost. When an associate responds and deciphers that he or she needs specific help, Service team members will drop what they're doing personally to pitch in however they can help best," Todd explained.
It's challenging, hard work – especially considering what goes into a single decision about a customer call. But making the customer a priority, supporting each other, and strong communication ensure P1 Service is prepared for any emergency that arises.