3 minutes reading time
(643 words)
The Right Tech, to the Right Job, at the Right Time: Profile on P1 Service Coordinators

Over the years, the P1 Service service department has developed a reputation for providing quality service and excellent customer care. It is the service technician, out on the job site every day, who has become the face of P1 Service, but it is the diligent work of the Service Coordinator behind the scenes, that keeps everything running like a finely tuned machine.
Company wide, the P1 Service department currently has 680 active contracts and 145 technicians to take care of them, but it falls on the shoulders of 11 coordinators to oversee and manage the day-to-day activities.
The service coordinators work in the trenches every day, fielding dozens of calls and scheduling technicians to ensure customer care. Their motto is "the right tech, to the right job, at the right time," which in itself is a huge undertaking.
It's this whirlwind atmosphere that Amy Fenstermacher, Service Coordinator-Lenexa, loves most about the job.
"It's different every day," she said. "You know if it's going to be especially hot/cold that you'll get some calls, but you never know exactly what's going to happen. It keeps things interesting!"
Service Coordinators do spend a lot of time taking calls, but the job comes with a long list of other responsibilities as well.
Scheduling PM calls, emergency calls, and dispatching assigned techs
Issuing purchase orders/new service calls for emergencies and repairs
Routing techs appropriately
Ensuring schedule is up-to-date for all service techs
Auditing all call resolutions for assigned techs
Processing payroll
Fielding customer questions and requests
Maintaining department reporting on spreadsheets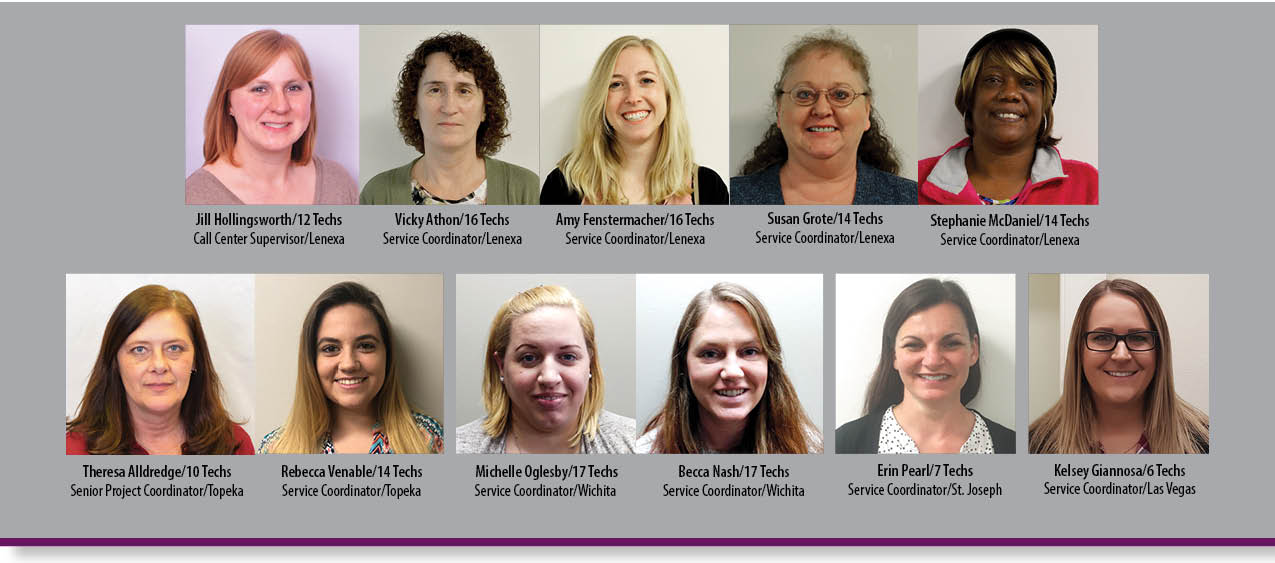 To keep this manageable, coordinators are assigned a team of technicians. Depending on the location, these teams range anywhere from six to 17 techs. The coordinators are responsible for providing the scheduling and other support for everyone on their team.
It's a tough job. It generally takes about a year for a new service coordinator to become proficient.
According to Lenexa Call Center Supervisor Jill Hollingsworth, "The Lenexa call center has undergone some major changes in the past year. Aside from me, each coordinator has been with the company less than two years.
"They have done an outstanding job learning the position and working together as a team. I don't think I could ask for a better group of ladies to run the Kansas City divisions."
A critical component of providing good support is developing a good relationship with the technicians and learning how best to communicate with them.
According to Erin Pearl, Service Coordinator-St. Joseph, "It is very important to forge a good relationship with the techs so that you can learn who they are and how best to work with them.
"This also helps us learn the tech's skill areas and areas where they still need improvement, which helps ensure we pick the right tech for the job."
The end result is providing better service for the customer, which is the ultimate goal.
"The dispatcher is the bridge that connects the client to our amazing technicians. Every role is an important piece of the greater puzzle, and without every piece, the client does not get the best we have to offer," Michelle Oglesby, Service Coordinator-Wichita, said.
"I love being in that vital role, making the process easier for the clients and technicians. In general, the world has seen a decline in customer service, and it makes me feel great knowing I play a role in getting our clients the best customer service."
Rebecca Venable, Service Coordinator-Topeka, sums it up best. "I think the most important aspect of our job is continuing to keep our internal and external customers happy.
"Our customers keep our company rolling. When we build that relationship and make a customer feel valued and appreciated, they become a customer for life."
If you get a chance, say "thanks" to your Service Coordinator today: They are a critical part of P1 Service's success.