3 minutes reading time
(608 words)
Creating Healthier Buildings: United Association Offices UV-C Systems Installation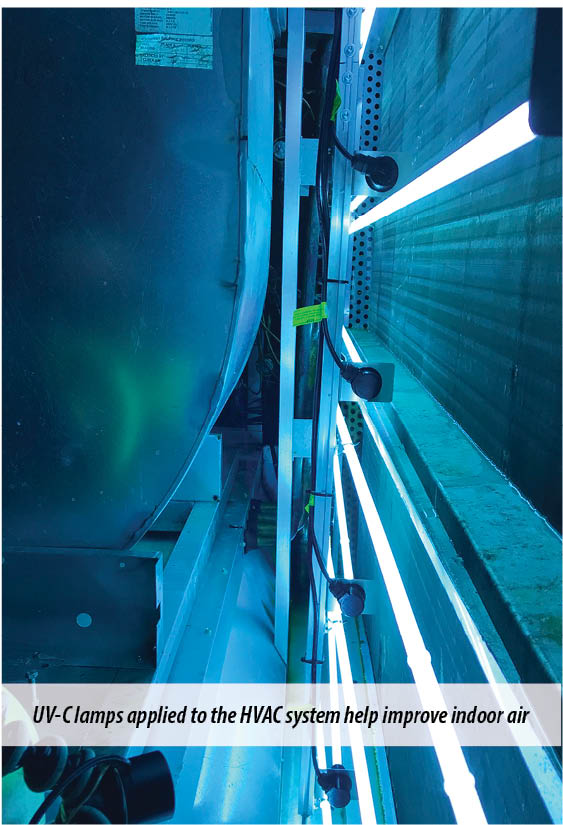 It started as a conversation between P1 Group CEO Smitty Belcher and Patrick Kellett, General Secretary-Treasurer for the United Association, and materialized into P1 Group providing a healthy buildings strategy for the HVAC units located at the UA Headquarters in Annapolis, MD.
The UA Headquarters building is 110,000 sq. feet, containing both offices and retail space. It houses the leadership and supporting staff offices which represent and service approximately 355,000 plumbers, pipefitters, sprinkler fitters, service technicians and welders in local unions across North America.
UV-C isn't a new product. It has been utilized to improve indoor air quality in HVAC units for more than 20 years, but has recently become very popular due to COVID-19. UV-C inactivates microorganisms including viral, fungal, and bacterial, preventing replication that would result in disease. This contributes to a healthier environment when designed, installed, and maintained properly.
Service Project Manager David Pate developed an estimate and proposal, and oversaw the job remotely. The pandemic made travel difficult, so David worked closely with the UA building engineer on location to limit his trips to the job site.
"Coordinating the field data collection remotely can be a huge challenge, but we were fortunate to have a very qualified building engineer to gather pictures and dimensional information in order to properly size the UV-C equipment," David said.
Once the order was placed, receiving the equipment became the next hurdle.
"Due to the very high demand for these products, our supplier had unexpected delays in the delivery, so our schedule had to be somewhat fluid," David said.
When the equipment finally arrived, David was on site for the pre-job review meeting with the subcontractor, installer, and building engineer. For this application, P1 Group provided unit-mounted lamps in four large water cooled heat pumps and installed two upper air fixtures in the IT Room. The unit mounted UV-C Systems will treat the circulated air and the upper air fixtures will treat the air in the independently conditioned IT Room.
David's second and final trip included commissioning of the new systems, coordinating the installation of the two new upper air fixtures located in the IT Room, and reviewing operation and maintenance with the building engineer.
"Applying UV-C to an HVAC system contributes to the overall improvement of indoor air quality, and also system efficiency," David said. "Most importantly, the installation of UV-C along with other measures put in place by the UA Leadership is providing a healthier and safer work environment for their associates and guests."
Patrick says P1 Group made the process easy and transparent.
"I was told up front the advantages of the UV-C system, along with costs and delivery expectations during COVID," he said.
"P1 Group, Inc. worked well with my in-house contractor and building engineer," Patrick said. "The relationship with Vice President Tony Whited and David Pate was a real advantage and I appreciated working with them. As the building owner, I look forward to watching the UV process and seeing the advantages to our building."

P1 Group has installed UV-C Systems in a number of our customers' facilities, and in response to COVID-19, P1 Group developed a series of resource materials as part of the company's "Healthy Building Strategies and Solutions".
David said that due to COVID-19, the demand for the UV-C systems has significantly increased.
"This year I have had the opportunity to develop and present seven UV-C system proposals for commercial, healthcare, and industrial customers," he said. "Having access to the Healthy Buildings reference materials has been an invaluable resource."
It's that kind of preparation that keeps P1 in the forefront and ready to provide solutions when opportunities like UA Headquarters arise.