3 minutes reading time
(600 words)
Making the Rounds and Building Experience - Associate Profile on Adam Collier

Adam Collier has been with P1 Group for 15 years. During this time, he has "made the rounds", working in several different P1 locations, which has allowed him to gain a vast amount of knowledge and experience.
He is currently a service manager in the Lenexa Office, specializing in start-up and test and balance (TAB).
But Adam said it took some time to figure out where his true passion lies.
Out of high school, Adam went to college and studied engineering but realized that he had a passion for working on machines and solving problems, so he began training to become a pipe fitter.
He came to P1 Group as a tradesman in the service department and then started the apprenticeship program at Local 533.
"When I was in my 3rd year of the program, I was given the opportunity to become a Service Manager in the P1 Wichita office," Adam said.
In that position, he oversaw the day-to-day operations of the service department, and assisted with Business Development alongside Phil Nehring – an early nod to Adam's knack for working with people.
"After four years in Wichita, I moved to St. Joseph as the service manager, with the goal of starting a service division for that office which did not yet have one," Adam explained.
"Although I enjoyed the relationships I developed with the customers and technicians in St. Joe, I missed having the opportunity to spend time in the field," Adam explained.
"Working on machines and solving problems, is the reason I learned the trade in the first place," Adam said.
So, after five years in St Joe, he relinquished his position to return to Lenexa, where he worked in the field before moving back into a service manager role.
"Even though this role is similar to St. Joe, focusing specifically on start-up and TAB work as a member of a service team gives me the flexibility to stay engaged with the service needs of my customers."
One of those customers is Children's Mercy Hospital, where P1 Group recently finished extensive work on the Research Institute Tower.
"I look forward to ensuring those complex and critical systems perform as intended, and that P1 builds and maintains a good relationship with the hospital maintenance staff," Adam said.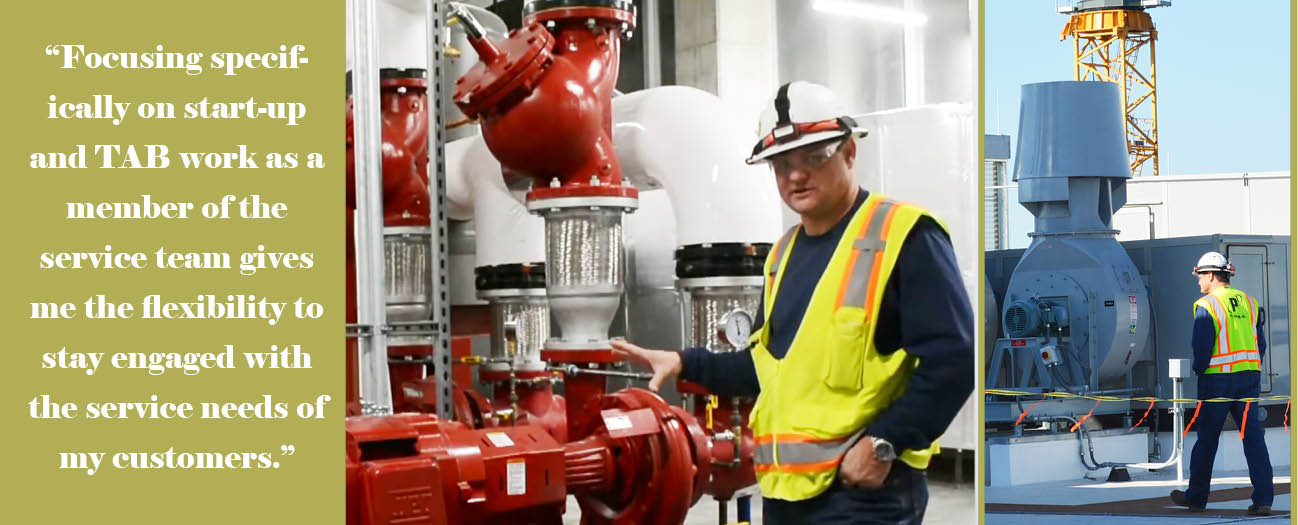 Adam conducts training on the complex mechanical systems at the Children's Mercy Research Tower, including base-mounted pumps and high-plume Vektor fans for the Biologic Safety Level 3 labs.
Paying Knowledge Forward
Adam says that while solving problems and helping customers is a highlight of his job, he also really loves helping and mentoring the technicians in the field.
And his passion for helping the techs is apparent in the way they have responded to his leadership.
Gary McDonald, St. Joseph Service Manager, says he always looked forward to Adam showing up on a job site.

Aaron White, St. Joseph HVAC Service Technician, recalls how well Adam supported the team.

Regardless of location, Adam brings knowledge and passion to everything he does, which translates to exceptional working relationships with both internal and external customers.
Taking Time for Family
When Adam isn't working, he and his wife Sara spend a lot of time supporting their two children, Elliott and Alice, in their many activities. Elliott plays hockey with the KC Stars Peewee Travel Team and has roughly 50 games each season. Alice is part of the Summit Trails Cheer Squad, plays the viola, and is currently rehearsing for the theater production of "Annie" which will be performed this winter.

From left: Sara, Alice, Adam, and Elliot; Elliot with KC Stars; Alice on Cheer Squad