2 minutes reading time
(382 words)
Mighty Trio: P1 Service Ammonia Team Takes Care of Business...and Customers

While field technicians, electricians, and plumbers are feeling the heat of additional summer service calls, the P1 Ammonia Division is also in the thick of the current rush.
This small but mighty division consists of just three technicians: Jamar Jackson, Troy Stewart and Mitch Sturke, and they do a great job taking care of P1's ammonia customers.
Given the size of the group, they are on-call every three weeks, and even when they're not on-call, they have to stay close to their phones in case one of their teammates needs a hand.
General Manager Todd Andrews said he really appreciates how they do all of this without complaining.
"They work through the night if necessary, without complaint, and take on extra calls in order to always take care of the customer," said Todd.

For the Ammonia techs, it's all in a day's (and night's) work and all agree that they enjoy the challenges.
Mitch explains the high stakes involved, and says there's a lot of satisfaction in completing critical work for the customer.
"The customers that use anhydrous ammonia as a refrigerant are working with very industrialized processes, so when their machinery is down, it's critical to get it back up in a timely fashion," he said.
"Otherwise, they are looking at huge financial losses from down time and loss of product."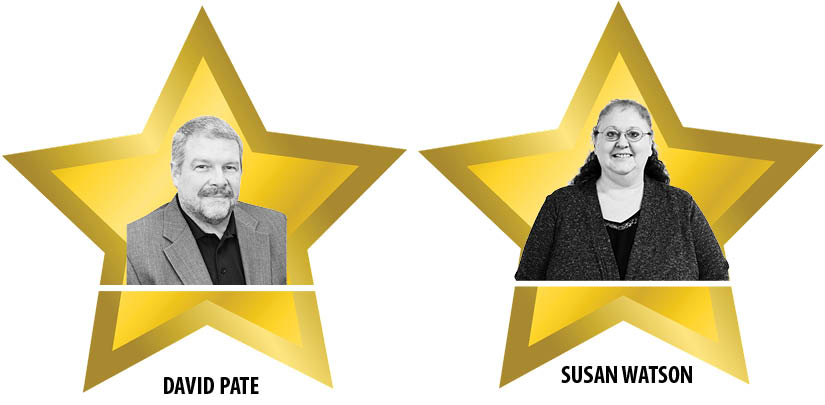 While these three guys are getting it done in the field, they are very appreciative to have guidance on the jobs from Project Service Manager Dave Pate, who has extensive experience with industrial and commercial markets.
Troy Stewart said that Dave's participation has been critical component to their success.
"He is great at giving direction on the work he sells and is continually following up and making sure everything is going well," Troy said.
In addition to Dave, the guys also wanted to make sure Service Coordinator Susan Watson gets some recognition as well.
"She is doing a great job with the schedule. She keeps our workload organized and prioritized and she is always pleasant to talk to on the phone," Mitch noted.
"I couldn't be more proud of how this Ammonia team has developed as a group, all while having to take on more and more responsibility," Todd said.
Great job on such important and specialized work, Ammonia Team!