2 minutes reading time
(339 words)
PROJECT HEALTHY BUILDINGS: Bi-Polar Ionization Adds Another Level to Cleaning Indoor Air

There's nothing better than that extra-fresh smell in the air near waterfalls, beaches, and immediately following a thunderstorm. But what you're actually experiencing are the effects of an ion-rich environment naturally having cleaned the air, giving it that inexplicable "fresh" smell.
As part of the Healthy Buildings initiative, P1 Service continues to provide customers with options to create healthier spaces within their facilities by concentrating on ventilation, air purification, and surface cleaning.
As people are returning to office spaces, schools, and facilities this fall with heightened concerns about clean air, P1 Service has added bi-polar ionization to our menu of healthy building services.
According to Vice President Rusty Roderick, bi-polar ionization is an air cleaning method that has been around for many years.
"Bi-polar ionization isn't new, but has recently gained attention again due to its ability to inactivate viruses in the time of a pandemic," Rusty said.
Here's how it works:
Outdoor air comes into your building, and the oxygen molecules flow over specially designed bi-polar ion tubes.
An energy field converts these molecules into positively and negatively charged ions, which travel into occupied spaces.
The ions seek out oppositely charged bad air particles, Volatile Organic Compounds (VOCs), and odors. When they combine, they break down and fall out of our breathing range to reduce contaminate levels.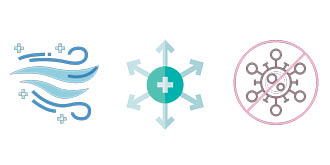 One advantage to bi-polar ionization is the clean ions produced can travel into all spaces, even spaces you can't see, cleaning the air everywhere.
For customers who are already using UV-C treatments, Rusty says the two work even better together - a one-two punch.
"In many scenarios, a hybrid approach is the best option, which utilizes the UV-C technology at the equipment level and bi-polar ionization at the ductwork level to distribute cleaner air into the space," Rusty said.
Rusty notes prices for these installations vary by each customer's needs, but P1 Service has detailed information available to help customers understand the cost for their facility.
For more information on implementing any of our healthy building solutions, contact P1 Service today!